World Population
By Earth graph, World Population in 2021 is estimated to be 7.9 billion, is the total people lived on the earth, Out of which China population constitutes to 18.5%, secondly India Population by 17.9%, United States Population by 4.3%, Indonesia by 3.5% and Brazil by 2.8%. Scientists predict the total human history was 200,000 to 300,000 years, i.e, Humans were early traced between 198,000 B.C - 298,000 B.C. In Continent wise Asia dominates currently with 4.4 Billion, Africa with 1.2 billion, Europe with 738 million and North-South America and others by 1.4 Billion.
As per UN, The global population aged 60 years or over with an estimated of 962 million in year 2017, It is more than twice as large as in 1980 when there were 382 million older persons worldwide. The older population of the developing regions is growing much faster than in the developed regions. The number is expected to double again by 2050, and it is projected to reach nearly 2.1 billion old age people. Over the coming decades, the number of older persons is expected to grow fastest in Africa, where the population aged 60 or over is projected to increase Africa has 68.7 millions, 549 Million in Asia, 183 million in Europe, 78 and 76 million in North and Latin America. Japan population is shrinking due to low fertility rates and society and cultural infrastructure, the aging population is rapidly increasing and Tokyo is the most populous city in the world, Taiwan, is another with low birth rates. The population of Canada is 38 million, UK is 68.8 million, Germany population is 83.1 million and Australia is 25.7 million. Finland is a Nordic country in Northern Europe.
Coronavirus disease is an infectious disease caused by SARS-CoV-2, called Covid-19, first identified in Wuhan, a city in China, on December 2019 and has resulted in an ongoing pandemic. As of September 2021, more than 225 million cases have been reported across 188 countries and territories, resulting in more than 4.6 million deaths, The top covid virus affected countries with most cases are US with 42 million, India with 33 million and Brazil with 20 million. The Covid vaccine list provides SARS-COV-2 disease vaccines from various manufactures around the world.
How many people are in the world?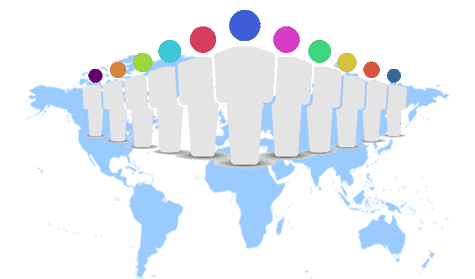 The term People or Population refers to humans, The total number of human beings on earth or inhabitants located regionally or by Country. The number of living beings live together geographically by terrain or region. Population Growth is the increase of number of human beings in a population. Currently the world population is increasing at the rate of 1.2 in 2018 down from 2.1 in 1963.
World Population Clock

"World Population live" refers to Human population on earth as on today. Want to know how many people living in the world right now? As per the world population live clock is . The World population clock is based on calculation of gain and loss of population, this live clock tell us the real-time population of the Earth.
---
Population Milestones
The chart listed the population milestones from 1804 from the 1 Billion range. The United Nations did predict the world population by the year 2100 after another 80 years will be 10 Billion considering as medium variant, If high variant is considered then the population will raise to 15 Billion and 6.2 Billion for a lower variant which is lower than the population of today.
| | |
| --- | --- |
| 1804 | 1 Billion |
| 1927 | 2 Billion |
| 1960 | 3 Billion |
| 1974 | 4 Billion |
| 1987 | 5 Billion |
| 1999 | 6 Billion |
| 2011 | 7 Billion |
| 2019 | 7.7 Billion |
| 2023 | 8 Billion (est) |
| 2035–2050 | 9 Billion (est) |
What was the population in 10,000 BC?
200 years ago there were less than one billion humans living on earth. Today, according to UN calculations there are over 7 billion and projected in 2100 it will be around 11 billion with the growth rate of 2.1. At 1 BC the the population expected to be 188 Million, and at 10000 BC the expected population to be 2.4 million as per Oxford researcher.
| Year | Thousand | Year | Million | Year | Million |
| --- | --- | --- | --- | --- | --- |
| 20000 BC | 100 | 10,000 BC | 2.4 | 1 CE | 188 |
| 19000 BC | 160 | 9000 BC | 3.5 | 1000 | 270 |
| 18000 BC | 220 | 8000 BC | 5 | 1500 | 500 |
| 17000 BC | 290 | 7000 BC | 7.5 | 1600 | 553 |
| 16000 BC | 380 | 6000 BC | 11 | 1700 | 603 |
| 15000 BC | 500 | 5000 BC | 18 | 1800 | 989 |
| 14000 BC | 610 | 4000 BC | 28 | 1900 | 1650 |
| 13000 BC | 800 | 3000 BC | 44 | 1,950 | 2500 |
| 12000 BC | 1100 | 2000 BC | 72 | 2000 | 6000 |
| 11000 BC | 1600 | 1000 BC | 115 | 2019 | 7400 |
---
World Population by Continent
According to UN, earth population forecasts between 2020 and 2100. Below is the World Population by Continent:
Region, subregion, country or area
2020
2021
2022
2023
2024
2025
2030
2040
2050
2060
2070
2080
2090
2100
WORLD
7,794,799
7,878,657
7,963,012
8,047,799
8,132,972
8,218,501
8,651,761
9,553,186
10,543,230
11,733,077
13,245,025
15,240,708
17,948,823
21,632,737
UN development groups
More developed regions
1,273,304
1,275,280
1,277,068
1,278,667
1,280,081
1,281,312
1,285,149
1,283,648
1,271,850
1,253,480
1,233,311
1,216,283
1,203,621
1,193,578
Less developed regions
6,521,494
6,603,378
6,685,944
6,769,132
6,852,891
6,937,189
7,366,612
8,269,537
9,271,380
10,479,597
12,011,714
14,024,425
16,745,201
20,439,159
World Bank income groups
High-income countries
1,263,093
1,267,358
1,271,505
1,275,518
1,279,383
1,283,092
1,299,324
1,319,714
1,324,307
1,319,641
1,312,416
1,307,017
1,305,171
1,307,555
Middle-income countries
5,753,052
5,810,332
5,867,477
5,924,440
5,981,188
6,037,699
6,316,760
6,858,314
7,391,715
7,967,370
8,640,595
9,482,960
10,590,391
12,057,069
Low-income countries
775,711
797,988
821,014
844,788
869,310
894,581
1,032,349
1,371,422
1,823,072
2,441,498
3,286,938
4,445,064
6,046,913
8,260,982
No income group available
2,944
2,979
3,016
3,053
3,091
3,129
3,327
3,736
4,136
4,568
5,075
5,666
6,348
7,131
Geographic regions
Africa
1,340,598
1,375,228
1,411,075
1,448,133
1,486,402
1,525,889
1,742,280
2,279,591
2,989,132
3,944,427
5,237,692
6,992,812
9,392,372
12,677,031
Asia
4,641,055
4,681,524
4,721,423
4,760,709
4,799,348
4,837,315
5,016,762
5,321,851
5,563,350
5,773,028
5,974,678
6,200,811
6,492,500
6,869,508
Europe
747,636
747,517
747,240
746,817
746,258
745,573
740,549
725,023
704,645
679,110
652,104
629,314
611,642
595,884
Latin America and the Caribbean
653,962
660,102
666,230
672,335
678,405
684,426
713,384
763,009
802,030
832,769
855,984
873,457
889,252
906,886
Northern America
368,870
371,055
373,255
375,456
377,646
379,819
390,451
409,569
423,848
436,875
450,270
461,602
470,614
479,538
Oceania
42,678
43,231
43,789
44,350
44,913
45,480
48,337
54,142
60,225
66,868
74,297
82,712
92,442
103,889
African Continent has a population of 1 Billion as estimated on 2017, With the annual rate of 2.7 compared to more developed regions, Eastern europe and central asia(0.9), Arab states or Middle east region has a population of 359 million and growing quickly with annual average rate of 2.1 when compared to Africa, the rate of change is 1.5 times more than the world annual rate of 1.2. Rapid population growth keeps poor countries poor, this may happen to some of the African Nations and Asian countries due to weaker policies, on the other side it may be reverse for Arab States as they may get much richer by having a good annual rate.
Areas(2017)
Total population
in millions
(2017)
Average annual
rate of change,
percent
(2010-2017)
Total fertility
rate, per woman
Life expectancy
(years), male
Life expectancy
(years), female)
World
7,550
1.2
2.5
70
74
Areas wise
Arab States
359
2.1
3.4
68
72
Asia and the Pacific
3,960
1
2.1
70
73
Eastern Europe and Central Asia
243
0.9
2.1
70
77
Latin American and Caribbean
641
1.1
2
72
79
East and Southern Africa
581
2.7
4.5
61
65
West and Central Africa
424
2.7
5.2
56
58
More developed regions
1,260
0.3
1.7
76
82
Less developed regions
6,290
1.4
2.6
68
72
Least developed countries
1,002
2.4
4
63
66
---
World Population Fertility rate by country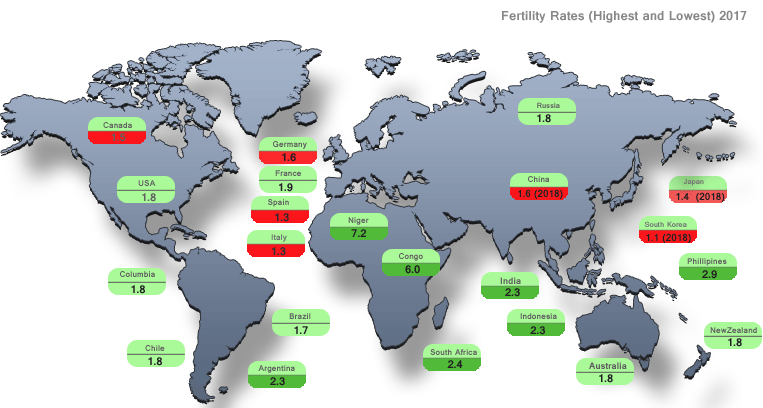 South Korea has the lowest world fertility rate with 1.1 by 2018, followed by Japan with 1.4, Spain and Italy with 1.3 each. China is ranking 1 in terms of population by 2019 with 1.41 billion people but the population rate is declining to 1.6 due to rapid population control from 1980 to 2000, Guangdong and Shandong provinces are with 109 and 100 million people, Shanghai and Beijing are the highest populated cities with 24 and 23 million, and rank 2 is india with 1.36 billion with 2.3 fertility rate and will surpass China in 2026.

Slavery in America started in the year of 1619, when 20 Africans were brought to Virginia in a dutch ship. The Slavery was finally abolished on the 13th Amendment to the US Constitution on January 31, 1865. Illinois was the first state to give formal consent to the 13th amendment to abolish slavery. But before that five of the northern states who are self declared adopted policies to abolish slavery, Pennsylvania in 1780, New Hampshire and Massachusetts in 1783, and Connecticut and Rhode Island in 1784. Some of the earliest evidence of corn cultivation in North America comes from Pima County, Arizona, where Tucson is located. Ohio state has over 40,000 miles of waterways. The largest states of United States are Alaska, Texas, California, Montana and New Mexico. New York State is the fourth largest state and some of the world's popular theme parks, including Disney World, Universal Studios, and SeaWorld are in Florida State. The Wright brothers, had their first successful flight in North Carolina, a state is named in honor of King Charles I of England, North and South Carolina were one colony until 1729. The name Michigan is derived from the Ojibwa Indian word 'meicigama' means 'large water', a state is known for its great lakes. New Jersey was named after the Isle of Jersey, an Island in the English Channel. Arizona is known for the famous Grand Canyon and desert. Washington is the second most populous state on the West Coast and in the Western United States, Virginia is the oldest state and one of the original 13 colonies at the time of European revolution, also the state Massachusetts, which was named after the native tribe, also its best state for higher education. Tennessee was named after a Indian Cherokee town 'Tanasi' and the state of Indiana was named after Native Indians, Missouri was named after Natives of Sioux tribe. Alabama settled by the Choctaw, the Creek, Cherokee, and the Chickasaw. Maryland is called little America, because it has all type of terrains like mountains, beaches, sand dunes, farmland and forest similar to Colorado. People first arrived in the area now called Louisiana around 12,000 years ago. The state Wisconsin was first inhabited by various Native American tribes like Chippewa, Menominee, Oneida, Potawatomi and Ho Chunk and its largest city is Milwaukee. Minnesota has 11,842 lakes of 10 acres or more. One of the world's great invention of electric light bulb in 1883 by Thomas Edison was from Louisville, Kentucky state. According to Texas Facts, Texas is second only to California in terms of population. States with the Lowest Cost of Living as per index are Mississippi, Kansas, Oklahoma, Arkansas and Missouri and Cost of Living in California is expensive. Fresno and Fremont of California, has long been one of California's most affordable areas.

Australia is the largest country in Oceania, divided states are New South Wales, Tasmania, South Australia, Victoria, Queensland, and Western Australia. Canadian provinces are Alberta, British Columbia, Manitoba, New Brunswick, Newfoundland and Labrador, Nova Scotia, Ontario, Prince Edward Island, Quebec, and Saskatchewan, and three Canadian territories are Northwest Territories, Nunavut, and Yukon. United Kingdom consists of countries England, Wales, Scotland and Northern Ireland.
World Population by country
The below table is the world population by country:
Population Rank
Countries
Total population
in millions
(2017)
Average annual
rate of change,
percent
(2010-2017)
Total fertility
rate, per woman
Life expectancy
(years), male
Life expectancy
(years), female)
1
China
1,409.5
0.5
1.6
75
78
2
India
1,339.2
1.2
2.3
67
70
3
United States of America
324.5
0.7
1.9
77
82
4
Indonesia
264
1.2
2.3
67
72
5
Brazil
209.3
0.9
1.7
72
79
6
Pakistan
197
2.1
3.4
66
68
7
Nigeria
190.9
2.6
5.5
53
55
8
Bangladesh
164.7
1.1
2.1
71
75
9
Russia
144
0.1
1.8
66
77
10
Mexico
129.2
1.4
2.2
75
80
11
Japan
127.5
-0.1
1.4
81
87
12
Ethiopia
105
2.6
4.1
64
68
13
Philippines
104.9
1.6
2.9
66
73
14
Egypt
97.6
2.1
3.2
69
74
15
Vietnam
95.5
1.1
2
72
81
16
Germany
82.1
0.2
1.5
79
83
17
Congo
81.3
3.3
6
59
62
18
Iran
81.2
1.2
1.6
75
77
19
Turkey
80.7
1.6
2
73
79
20
Thailand
69
0.4
1.5
72
79
21
United Kingdom
66.2
0.6
1.9
80
83
22
France
65
0.4
2
80
86
23
Italy
59.4
-0.1
1.5
81
85
24
Tanzania
57.3
3.1
5
65
68
25
South Africa
56.7
1.4
2.4
60
67
26
Myanmar
53.4
0.9
2.2
64
69
27
South Korea
51
0.4
1.3
79
85
28
Kenya
49.7
2.6
3.8
65
70
29
Colombia
49.1
0.9
1.8
71
78
30
Spain
46.4
-0.1
1.4
81
86
31
Argentina
44.3
1
2.3
73
80
32
Ukraine
44.2
-0.5
1.6
67
77
33
Uganda
42.9
3.3
5.5
58
62
34
Algeria
41.3
1.9
2.7
75
78
35
Sudan
40.5
2.3
4.5
63
66
36
Iraq
38.3
3.1
4.3
68
72
37
Poland
38.2
-0.1
1.3
74
82
38
Canada
36.6
1
1.6
81
84
39
Morocco
35.7
1.4
2.5
75
77
40
Afghanistan
35.5
3
4.5
63
65
41
Saudi Arabia
32.9
2.6
2.5
73
76
42
Peru
32.2
1.3
2.4
73
78
43
Venezuela
32
1.4
2.3
71
79
44
Uzbekistan
31.9
1.6
2.3
69
74
45
Malaysia
31.6
1.7
2
73
78
46
Angola
29.8
3.5
5.6
59
65
47
Mozambique
29.7
2.9
5.2
57
61
48
Nepal
29.3
1.2
2.1
69
72
49
Ghana
28.8
2.3
3.9
62
64
50
Yemen
28.3
2.6
3.9
64
67
51
Madagascar
25.6
2.7
4.1
65
68
52
North Korea
25.5
0.5
1.9
68
75
53
Australia
24.5
1.4
1.8
81
85
54
Singapore
5.6
1.2
1.3
81
85
Data: Calculations of population projection based on UN stats and the population formula.
How the Women Population is treated in this world
The global rankings on women's inclusion, justice, and security offer multiple insights. As per GIWPS 2017-2018 report[3] of 153 countries Average women index of having equality is 0.68 compared to men and top 5 countries on earth are Iceland(1), Norway(2), Switzerland(3), Slovenia(4) and Spain(5) and 5 countries with poor equality status for women are Afghanistan(153), Syria(152), Yemen(151), Pakistan(150) and Central African Republic(149). In terms of mean years of schooling Germany has the average of 14 years, followed by United States and Canada with 13.5 years. Burkina Faso, Mali, Burundi, Ethiopia are the lowest with 1.3 to 2 years. 62 million girls around the world are denied an education, which often dooms them to a life of poverty and dependence(globalcitizen.org).
One way to empower women around the world is to help them gain land rights. According to landesa.org, Only 30% of the world's population own land titles, and women are often the least likely to have land registered. More than 400 million women farm, yet only about 15% of farmland is owned by women. Finland, Denmark and Norway has 100% Financial inclusion(Percentage of women ages 15 and older who report having an individual or joint account) where top 5 countries having the poor standard of financial inclusion are Turkmenistan(1.5%), Yemen(1.6%), Niger(2.5%), Pakistan(3%) and Central African Republic(3.4). Countries of Women are using 100% cellphone(Percentage of women ages 15 years and older who report having a mobile phone that they use to make and receive personal calls) are United Arab Emirates, Libya and Finland. Cuba has one of the least with only 7.6%, and Syria, Sudan, Pakistan and Burundi has less than 35% use of cellphone. Rwanda and Bolivia has 50% In terms of Parliamentary representation(Percentage of seats held by women in lower and upper houses of national parliament) where Qatar and Yemen has no women represents for parliament, Thailand, Lebanon and Haiti has less than 5% representation and United States is less than 20% of women for Parliament.
In the justice dimension, legal discrimination is extensive in the worst-scoring countries in all regions. Legal discrimination index (Aggregate score for laws and regulations that limit women's ability to participate in society and the economy or that differentiate between men and women) United Kingdom, Spain, Mexico, Bosia & Malta has the best legal discriminate laws and index is 8, where as most notable are Saudi Arabia index is 54, one of the most gender-unequal countries on Earth, followed by Yemen, UAE, Syria, Oman, Jordan, Afghanistan and Iran with 45 to 48. Best score is 7, Global average is 23 and worst is 54.
Son bias is preference for boys reflects serious discrimination against girls and women, China(1.16), Azerbaijan and Armenia has high ratio, followed by Vietnam(1.12), India(1.109), Georgia(1.106), Pakistan(1.087) and Maldives(1.10). Son bias is the discrimination against girls and women, In an influential 1990 article, Amartya Sen examined the high ratios of men to women in several countries and estimated that more than 100 million women were "missing" worldwide, these numbers tell us, quietly, a terrible story of inequality and neglect leading to the excess mortality of women. Best score is 1.02, Global average is 1.08 and worst score is 1.16.
Popular and Largest Cities in the World
Expansion of world cities was driven in different parts of the world, with growing economic prosperity and infrastructures expanding road, railway and air networks. This makes people of the middle class move towards the urban and suburban towns for the better quality of life. Currently the top 3 populated cities are Tokyo, Delhi, Shanghai. North America is one of the most urbanized regions of the world with most of people living in urban areas like São Paulo and followed by Mexico City is the fifth populous city. Growth was always closely related to economic development, larger cities tend to perform better economic output. In case of the south-east asia monocentric urban agglomeration of Seoul, nearly all urban functions are concentrated in the core city, its the populous city in South Korea with 10 million. The data refers only to the population of municipalities within their city limits, some of the populations of other municipalities considered suburbs of neighbourhood city, and some are unincorporated areas within urban agglomerations are also included. Moscow is located in the far western part and political center of the Russia, city reconstruction plan according to urban needs along major roads was adopted in 1935. Turkey's most populous city offers a literal bridge between the regions of Europe and Asia, Istanbul is the largest city in Turkey that straddles Europe and Asia across the Bosphorus Strait. Italy's capital city Rome has been attracting foreign dignitaries, pilgrims and leisure tourists and while most of the main attractions are centuries old, this is a living, breathing city with plenty of ancient structures appeal for those seeking a more modern form of fun. Spanish capital city Madrid has a great mix of sights and culture, and the food is amazing, While some travelers have tended to skip the Spanish capital in favor of Barcelona or Basque country. Paris is the France capital and one of the oldest city and top tourist destinations in Europe, It has always melted visitors heart, some of the iconic sites like the Louvre and the Pere Lachaise Cemetery. It is popular for boulevards, plazas, monuments, gardens and beautiful bridges. London is one of the ancient city and most powerful cities of the ancient world. In 2019, Bangkok ranked 1st surpassing Paris and London in Global Destination Cities Index 2019 with 22.78 million visitors. Johannesburg is the largest city of south africa and economic capital of the African continent.
In North America, large urban agglomerations can be seen rising along the east coast where the first colonial settlements. This urbanization trend was started over centuries by road networks and later railway lines and train stations forming largest US Cities, Due to the population flow to urban towns, The service areas quickly picks up with the population service requirements either it is in municipal,banking or utilities. When considering U.S. municipal, metro and metropolitan area populations, Most populated cities are New York City is the most populous city in the United States and eleventh populous in the world with 8.2 million, Newark is the second-largest city in the New York metropolitan area. Toronto is more like somewhere between Chicago and Philadelphia, than resembling NYC, Montreal is the second largest and Ottawa is the fourth largest city of Canada. 82% of the population live in urban areas including the largest cities like Vancouver, Calgary, Edmonton, Winnipeg, Quebec City, Hamilton, Mississauga and Brampton. Some of the towns evolved as trading centres and mainly harbours as transportation hubs if these are close to coasts. They have been later connected with the hinterland and the west coast through railways, followed by Los Angeles with 3.9 million in the Southern California state, Torrance is a city in the Los Angeles metropolitan area located in Los Angeles County, Chicago in the Illinois state and is the third populous, and followed by cities like Houston. In the mid west, these areas are the key drivers near to the Great Lakes and transportation hubs can be identified as an agglomeration covering several cities like Phoenix and Philadelphia. Along the U.S West Coast, the urban statistics turned out in various factors with harbour cities like Seattle, San Francisco, Los Angeles and San Diego which are connected with the hinterland. Washington, D.C. is the political and administrative centre with historical and cultural heritage, New York is the commercial, service and banking centre, while Boston can be seen as academic centre. Memphis is a city on the Mississippi River in southwest Tennessee. Las Vegas is most popular for the resort city for gambling, nightlife, entertainment and shopping of the world, North Las Vegas is a city in Clark County, Nevada, United States, in the Las Vegas Valley. Albuquerque is the largest city of the U.S state of New Mexico. Louisville is the most ancient and popular city located in Jefferson county,named after King Louis XVI of France. Baltimore is popular for its crab houses, and getting some friends together to pick fresh crabs is a tradition. Sacramento has highest crime rate in USA that is 44% higher than the national average. Atlanta is the trade and transportation centre of the southeastern United States. Colorado Springs is the popular destination for tourists for rock formations in the State of Colorado. The city of Miami is well known for beaches such as Miami Beach and South Beach are popular for water sports and swimming in Florida State. Sydney is most famous for its twin landmarks: Sydney Opera House and Harbour Bridge, Melbourne is the cultural capital of Australia, Perth enjoys more hours of sunshine with average of 8 hours of sunshine per day all year round. Adelaide was named after Adelaide, Queen Consort of King William IV of the UK, Brisbane was recognised as Edenglassie, was changed to honour Sir Thomas Makdougall Brisbane, Governor of New South Wales State, Darwin is known for its wildlife nestled in and out of Australia Hobart is a city of Tasmania province, named after Robert Hobart, 4th Earl of Buckingham. Canberra city name is popular and derived from the word Kambera or Canberry. Charlotte is the most populous city and Raleigh is the capital city of North Carolina. Omaha was originally known for its railroads, breweries, stockyards and meatpacking in US central was founded in 1854. Virginia Beach have multiple beautiful beaches and eclectic districts in the State of Virginia. Ohio State three largest cities are Columbus, Cleveland, and Cincinnati. Wichita is known as the Air Capital of the World. In 1796, The Tampa Bay region is most well known for beautiful Gulf Coast beaches. Tulsa is one of the largest collections of art deco architecture in the US. The top cities of California state are, Los Angeles, San Diego, San Jose, San Francisco, Fresno, Sacramento, Long Beach, Oakland, Bakersfield, Anaheim, Santa Ana, Riverside, Stockton, Irvine and Chula Vista. Minneapolis is the most populous city in Minnesota, and is known for high-rise office buildings and a vibrant nightlife. Arlington is home to Six Flags Over Texas, a nationwide theme park that includes many notable attractions. Kabul is the capital and largest city of Afghanistan, has a long history of domination by foreign conquerors. Aurora city and is known for its culture, food, relaxing atmosphere, outdoor recreation, and art exhibits. Corpus Christi is one of the popular cities for wind surfing, sailing, kiteboarding and kite flying due to high wind speeds. Henderson city was named in honor of U.S Senator Charles Henderson.
St. Louis is a vibrant metropolis urban place in the heartland Missouri State. Living in St. Paul offers residents an suburban and city feel with cultural and leisure activities. Cincinnati is home to the first baseball team in America. Pittsburgh has become one of the most tech-savvy cities in the the State of Pennsylvania. Greensboro is one of inland cities of North Carolina, located roughly 200 miles off the Atlantic Coast. Plano boasts great neighborhoods, strong education, authentic cuisine of Texas State. The village of Lancaster was chosen for the Capital of Nebraska, Lancaster later became Lincoln, city was named after Abraham Lincoln. Orlando nicknamed as "the city beautiful" and is the metropolis at the the State of Florida. Irvine is one of the wealthiest and safest cities in the world, Toledo has become well known for its auto assembly and glass industry. The City of Durham is famously known as the City of Medicine, with healthcare as a major industry in North Carolina State. Madison named after James Madison, America's fourth President, who has made major contribution for ratification of USA constitution. Laredo is home to one of the oldest crossing points along the Mexico and United States border. St. Petersburg of Florida State is popular for boating, fishing, golfing, and other watersports and other popular Florida cities include Tallahassee and Cape Coral. Jersy City has always been seen as an inexpensive alternative to living in New York City. Fort Wayne is not only the hub of three rivers, it is also a major metropolitan area and the second largest city in Indiana State. Chula Vista is located about 7 miles from downtown San Diego and from the Mexican border. Arizona cities like Chandler, Scottsdale and Glendale is home to both historic attractions state of the art entertainment facilities that offers residents a dense suburban feel. Many families and professionals who live in Buffalo, which is closer to New York city tend to be liberal.
Reno is the largest city in Northern Nevada, Lubbock was referred as the twelfth-most-dangerous city in the nation, overcoming cities such as Detroit and New Orleans. Garland and Irving is one of the largest manufacturing cities in the state of Texas with more than 300 manufacturers and other cities in the state include Amarillo, Grand Prairie, McKinney and Frisco. Norfolk and Chesapeake are fifty percent safer cities and both cities has higher crime rates in Virginia State. Hialeah, Port St. Lucie, Fort Lauderdale and Pembroke Pines are the populous cities of Florida state, and city name is most commonly attributed to Muskogee origin. Winston-Salem is the two town city also called the Twin City for its dual heritage, Gilbert town was a prime farming community, was also known as Hay Capital of the World.
Boise is known as the City of Trees, popular for several outdoor attractions and a rich history. Richmond has a rich history and has high crime rate. Baton Rouge is a major industrial, petrochemical, medical, research and motion pictures. Des Moines is home to major insurance companies and a political landscape. Spokane, Tacoma are the cities of Washington State. California cities with a population of around two-hundred thousand are San Bernardino, Modesto, Fontana, Santa Clarita. Birmingham was founded in 1871 during post civil war, is named after UK's major industrial city. Mesa is a Spanish word that means table, its a suburb about 20 miles from Phoenix city. Nashville is perhaps best known as the capital of country music, city founded in 1779. Oxnard is noted for its exceptionally fertile soil in California, Moreno Valley is popular for Riverside International Raceway, Huntington Beach is popular as Surf City of USA and Glendale is known as best known for its Brand Boulevard. The Great Salt Lake of Salt Lake City is approximately 75 miles long and about 35 miles wide. Grand Rapids named after Grand River and is the Michigan's largest inland river. Fayetteville is hilly area known for the 7 hills around it. Columbus is also known for being the site of the last battle of the Civil War. All amenities available today in Overland Park of Kansas State make the the best places to live and grow up. Tempe is an inner suburb located close to Phoenix. Montgomery is popularly known for its many historic landmarks such as the Alabama State Capitol, Dexter Avenue King Memorial Churc. Huntsville also known as Rocket City, and Mobile are the popular cities of Alabama State. Yonkers is home to famous cultural icons and east hills is the best place. Worcester is known as the Heart of the Commonwealth, Knoxville is also known as the Marble City, Rock quarried from this area has been used in buildings for Museum of Art. Shreveport is best known for Aquarium and Aurora is known as the City of Lights. Akron became known as the rubber capital of the world. As Arkansas's State capital city, Little Rock is known for its charming hospitality, history and culture. Brownsville is a city in Cameron County in the U.S. state of Texas. Vancouver is a city on the north bank of the Columbia River in Washington state. Sioux Falls city has made an great effort to preserve its historical sites and maintain a visitor friendly environment. Chattanooga has its Renaissance with the growth of new businesses and a renewed waterfront. Providence with its beautiful outdoor spaces, historical spots, and delicious food makes visitors surprise.
Newport News was settled by Daniel Gookin in 1621, who brought 50 colonists from Ireland. Ontario s the fourth largest city in San Bernardino County, Rancho Cucamonga originally inhabited by the Tongva Indians and its name derives from the Indian word kukamonga meaning sandy place. Elk Grove, the town owes its name to James Hall and the Elk Grove Hotel, Oceanside was a popular weekend spot for rancho families who are living in the warmer areas, and Garden Grove is the 25th largest community city in California. Salem is surrounded by gardens, flower garden, vineyards and green pastures, Eugene is popular for outdoor recreations like hiking trails and organic farming. Peoria is home to Lake Pleasant Regional Park a true an oasis in the desert. Other California cities include Corona city was founded in 1886, Hayward is a historic area, once known for it's robust agriculture and canning industries., Palmdale in the Antelope Valley sold for 50 cents an acre, a Swiss and German group of 50 families migrated,Salinas s known as the Salad Bowl of the World,Sunnyvale is close to attractions of Lake Tahoe and the Sierra Nevada, Pomona name is the Latin word pomum meaning fruit, Escondido city is a spanish name meaning hidden valley. Joliet is Known as the Crossroads of Mid-America, Naperville was ranked as the wealthiest city in the Midwest, Killeen named it after Frank P. Killeen, Pasadena is a city in Los Angeles County. Calgary is the cosmopolitan city with numerous skyscrapers, and the centre of Canada's oil industry.
Mesquite is a suburban city located east of the city of Dallas, Paterson is a city in Passaic County, New Jersey, Bellevue is the high-tech and retail center of the Eastside, who enjoy social settings and constant activity across multiple downtown areas. Hollywood is a city in southern Broward County, Florida, Clarksville is in Montgomery County and is one of the best places to live in Tennessee. Lakewood is a suburb that lies just west of Denver, downton crime rate is high in this city of Colorado state, Alexandria primarily known for its rich colonial history as George Washington's hometown, Springfield known for its big-city attractions and smalltown charm, known as the Queen City of Missouri state, Cary is being ranked as one of the safest places to live in North Carolina. Pasadena becoming one of the first cities to be incorporated in what is now Los Angeles County, Orange offers residents a dense suburban feel and most of residents have their own home, Roseville considered a regional shopping destination, Fullerton is located about 22 miles from Los Angeles. One out of every 3.7 residents of Waco lives in poverty, Midland is founded as the midway region between Fort Worth and El Paso on the Texas, Olathe means beautiful in Shawnee and Kansas city located at Kaw Point, the junction of the Missouri and Kansas rivers, Springfield has been known as the City of Firsts, Murfreesboro is home to Middle Tennessee State University, the largest undergraduate university, Miramar is a city of pleasant living with affordable rental rates, Thornton is a suburb of Denver.
World population religion wise
Religion is often said that its a belief and worship or a cultural system, But its the non-removal dress you wear to your mind without knowledge from your birth. World population religion wise, The older religions on earth are, As per the pew research center in 2015, Christianity is the largest religion with 31% with 2.3 billion world Christian population, followed by Muslims make the second largest religion with 1.8 billion World Muslim population around 24%, followed by 15% of world hindu population and Buddhists are 7%, remaining 23% belongs to other groups like Jains, Jews and members of other religions represent smaller shares. As per the report European Christians percentage is decreasing rapidly due to lower fertility rate and Muslims are growing faster and will be largest religion by 2060. The fertility rates among religions are Muslims with 2.9, Christians with 2.6, Hindus with 2.3, Buddhists with 1.6 and Folk and all other religions with 1.8 to 2.4. Regarding the youngest median age world population Muslims with 24 years, followed by Hindus with 27 years and world population Christianity with 30 years age.
Global population distribution by Income
Today, the fastest population growth is found on the planet from 1900 onwards where poverty is worst. Between 1900 and 2000, as the world's population was exploding, per capita income grew quicker than before 1900, Many of the countries income was rising and for individual nearly fivefold. But it's not clear that population growth is the key problem of many countries where many of the governments are lacking to provide skills and create work. Approximately 5 Billion population are living under low standards of income levels out of which 1 Billion people are living by poor income levels as estimated on 2011, Another 3.9 Billion living under Low income levels. In many of the countries, the cost of living usually has the highest priority. However, other factors such as medical care or political stability should also be taken into account, cost of living in the usa is expensive considering the numerous factors of different countries in order to derive a ranking for the quality of life.
| Level | as on 2011 by percent | point change, 2001 to 2011 | Worldbank Threshold 2019 |
| --- | --- | --- | --- |
| Poor | 15% | -14% | - |
| Low income | 56% | 6% | $995 |
| Middle income | 13% | 5% | $995 - $3,895 |
| Upper-middle income | 9% | 2% | $3,896 - $12,055 |
| High income | 7% | 1% | > $12,055 |
The threshold levels are determinded by Worldbank in 2019[2].Total 1.2 Billion world population are living with Good income of upper and high levels. Other 1 Billion with middle income levels. The current thresholds for 2019 updated by world bank are Low income with less than 995 dollars a year and up to 995 -3,895 dollars for middle-income and 3,896 - 12,055 for upper-middle income and greater than 12000 dollars for High Income Group[1].
Animal population
According to the Scientists estimation there are approximately 8.7 million species on Earth, out of these 1-2 million of those species are animals. The blue whale is the largest animal weighing 190 tonnes and 33.6 metres long. The largest terrestrial animal is the African bush elephant, weighing 12.25 tonnes and 10.67 metres long.
References:
---
1. pewglobal.org/interactives/global-population-by-income/
2. blogs.worldbank.org/opendata/new-country-classifications-income-level-2018-2019
3. giwps.georgetown.edu/the-index/
4. www.pewforum.org/datasets/2019/